Business encompasses multiple complex processes; automated workflows make such complicated business processes easy to handle and manage. Cflow offers a platform with a comprehensive workflow library comprising prebuilt workflow templates to help you navigate automation with ease. It also offers a feature-rich toolkit to build your workflows from scratch.
Please find the below steps to use the "Workflow templates" option:
Click on the  "Workflow templates" feature in the left side panel of Cflow. You can see the different categories on the top.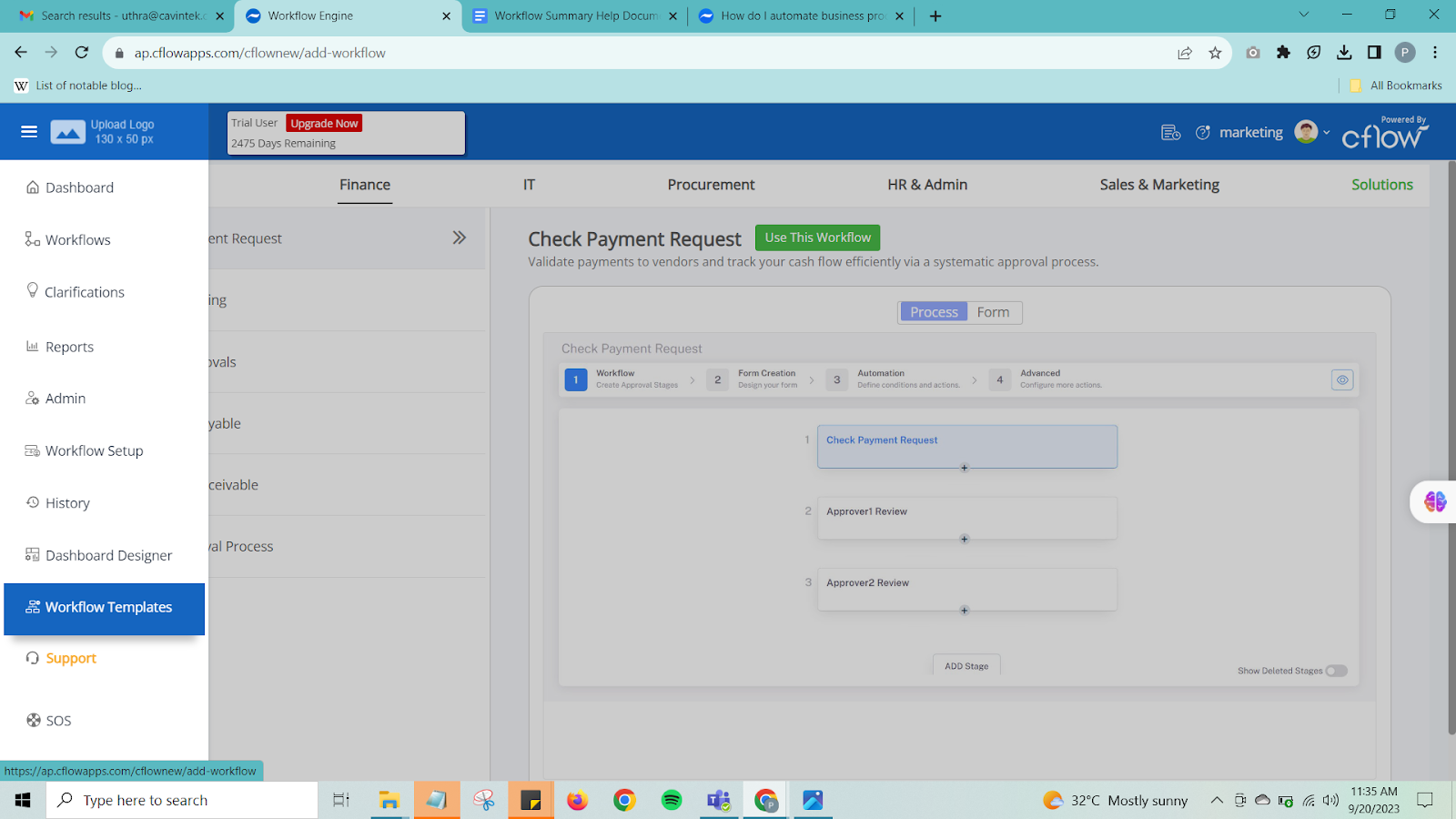 Cflow provides pre-built workflow templates for the categories of operations, finance, IT, Procurement, HR & Admin, Sales & Marketing and other solutions.
Please click on the category you are interested in. You can view the list of use cases under each category. Click on any use case to get an overview of the pre-built workflow.

Click on operations → Support process, you can find the page shown below. You can choose any other tasks associated with the operations and make use of the corresponding workflow template.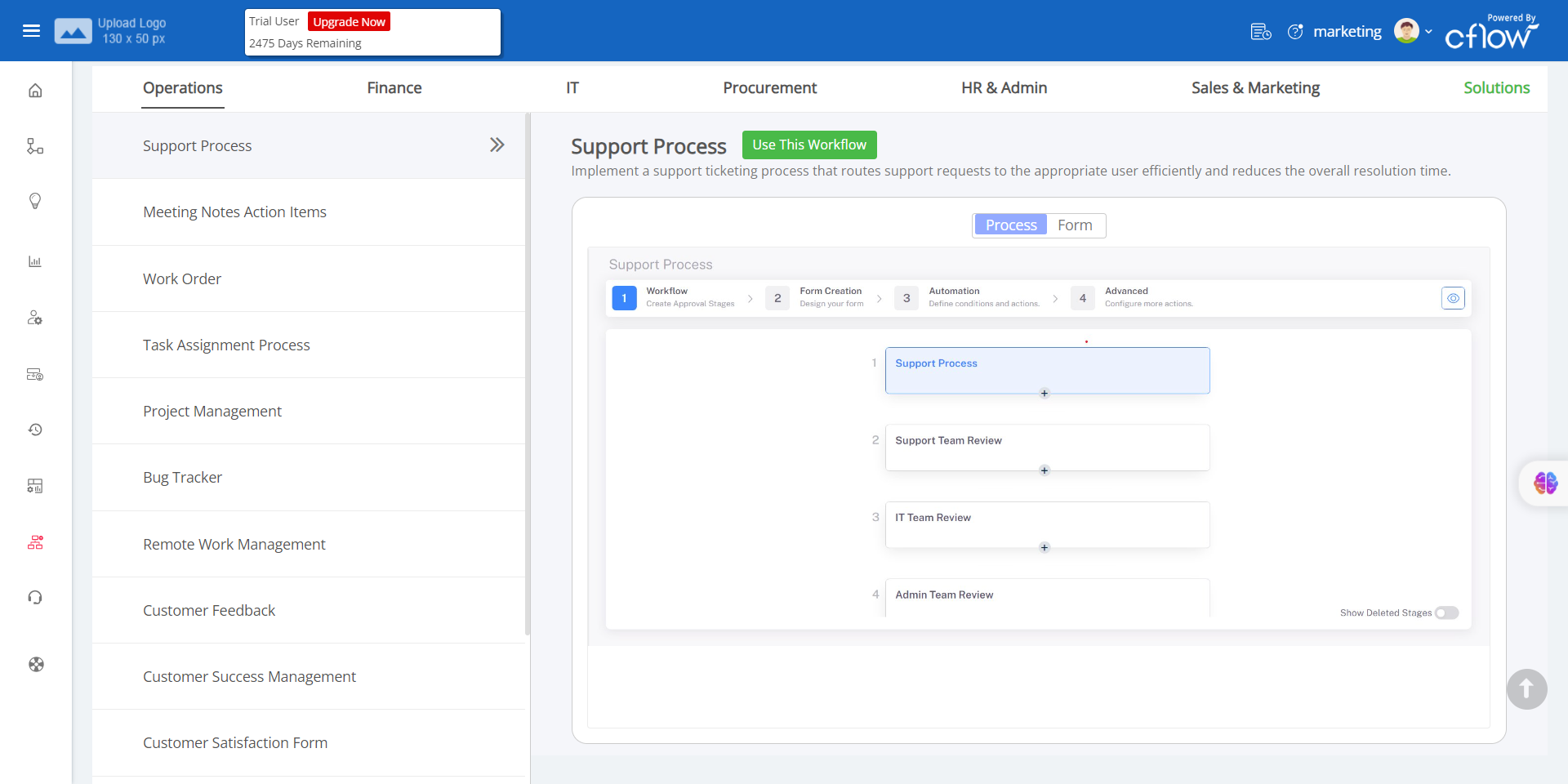 To proceed further with the workflow templates,  click on the "Use this workflow" option on the top right.
Likewise, You can use Cflow to automate the business workflows for the following departments:
1. Operations: Business operations focus on maximizing the profit of an organization. To accomplish this efficiently, operations cater to converting resources like labor and materials into business products and services. Automate your workflows to manage business operations with ease and style. Track issues and provide prompt solutions with Cflow's prebuilt workflow templates.
2. Finance: Every business activity depends on the process of financing. It is the process of providing funds to make any kind of business purchase or investment. Automated workflows entail a systematic approval process for streamlining financial activities. This can aid you in keeping track of your cash flow and managing the financial processes efficiently. Click on the workflow templates under finance to automate your financial activities.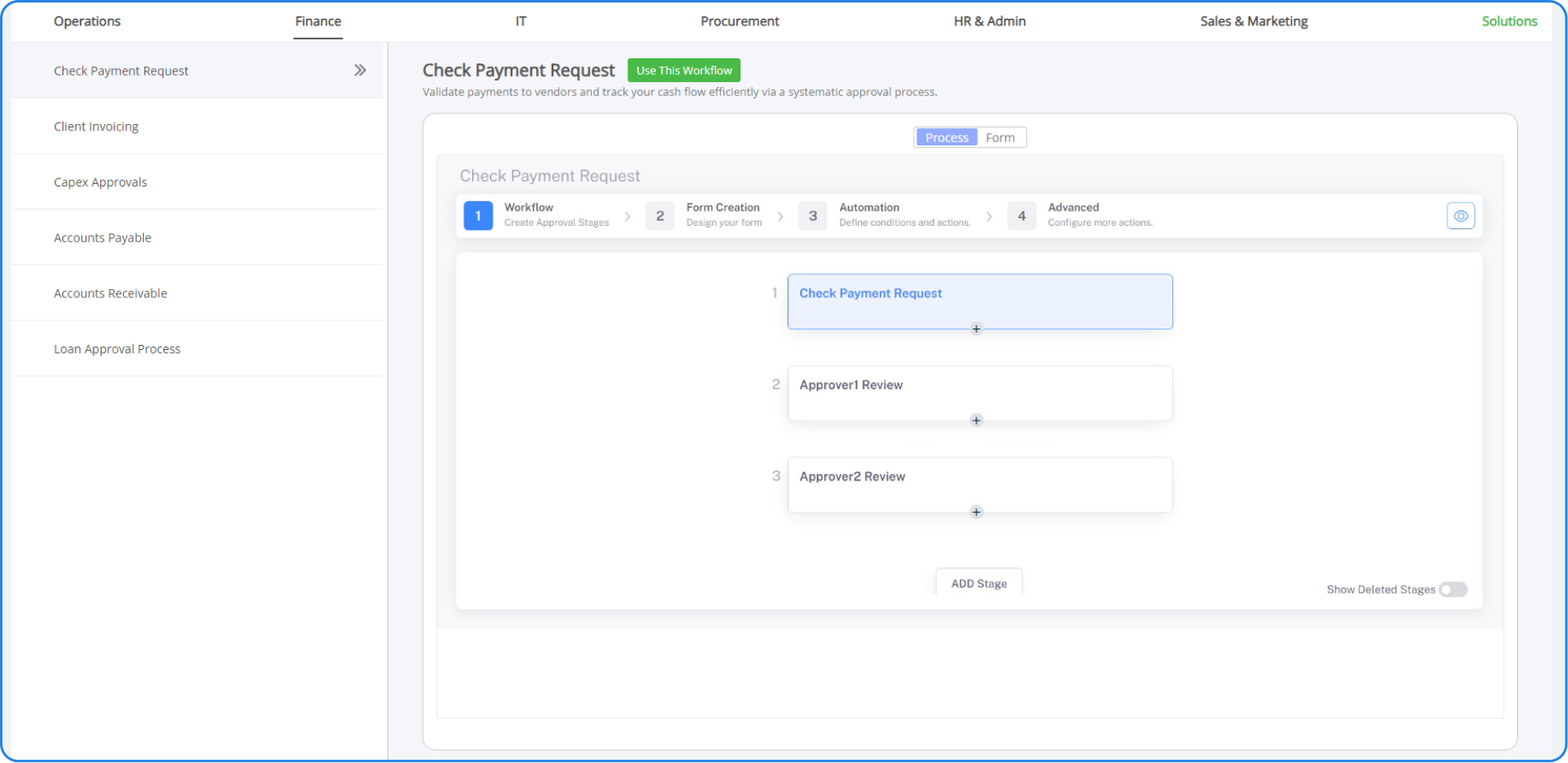 3. IT: Enriching your IT team is mandatory in this dynamic digital world, to stay updated and compete! Pre-built workflows are godsent to equip your IT team and manage their assets and requirements. Click on the IT section and make use of the Cflow templates.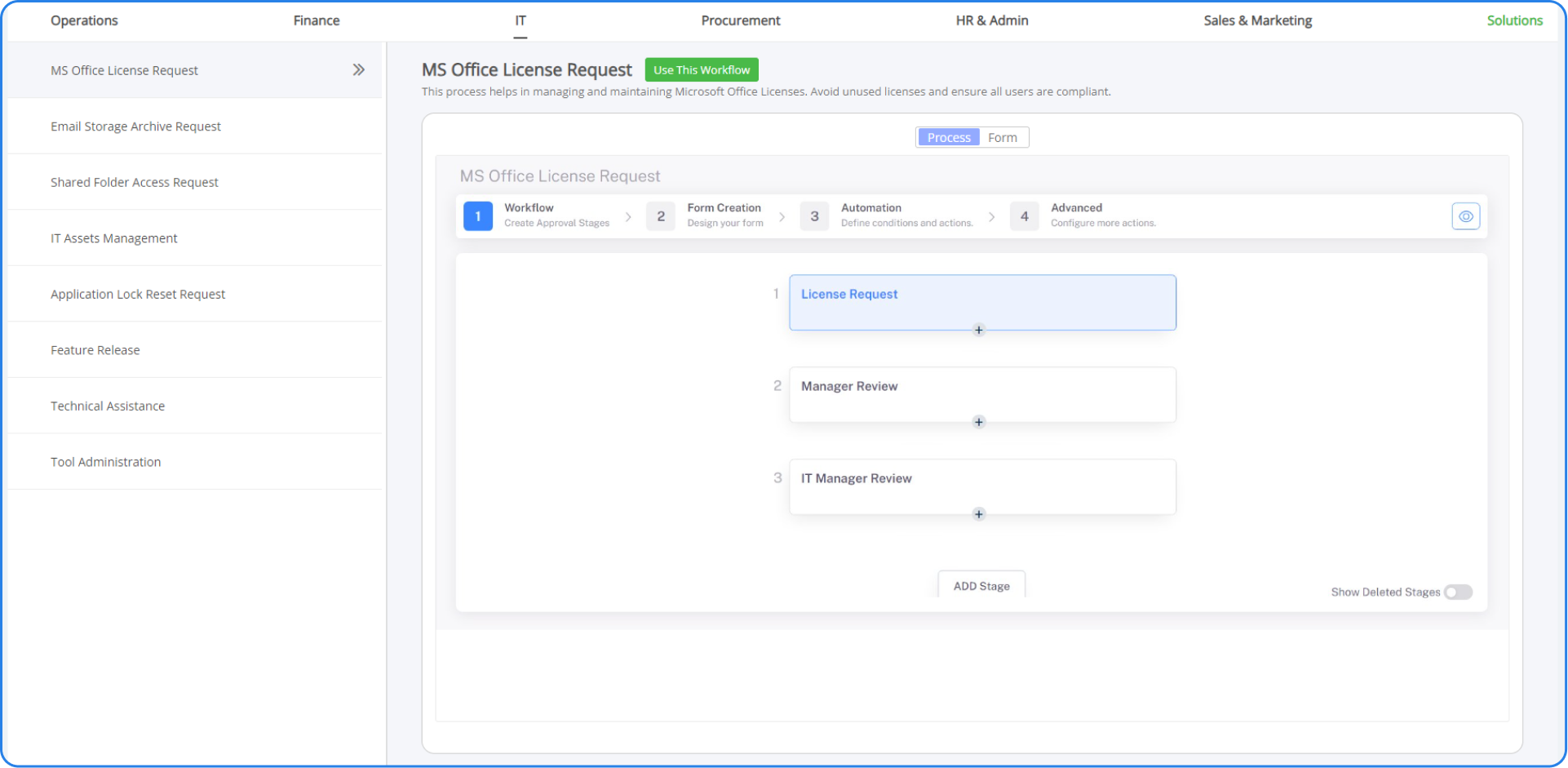 4. Procurement: Efficient procurement is what keeps your business pace intact. Manage all your procurement activities of getting your business requirements /resources (goods/services) from external sources with no sweat by using Cflow.  Procure-process-pay is the most demanding business operation and makes it uncomplicated with the pre-built workflows. Let all activities of finding the vendor, agreeing on the quotations and contractual terms, competing in the bidding, and managing assets and vendors be easy-peasy with Cflow. Here is a screenshot of Cflow templates under the procurement function.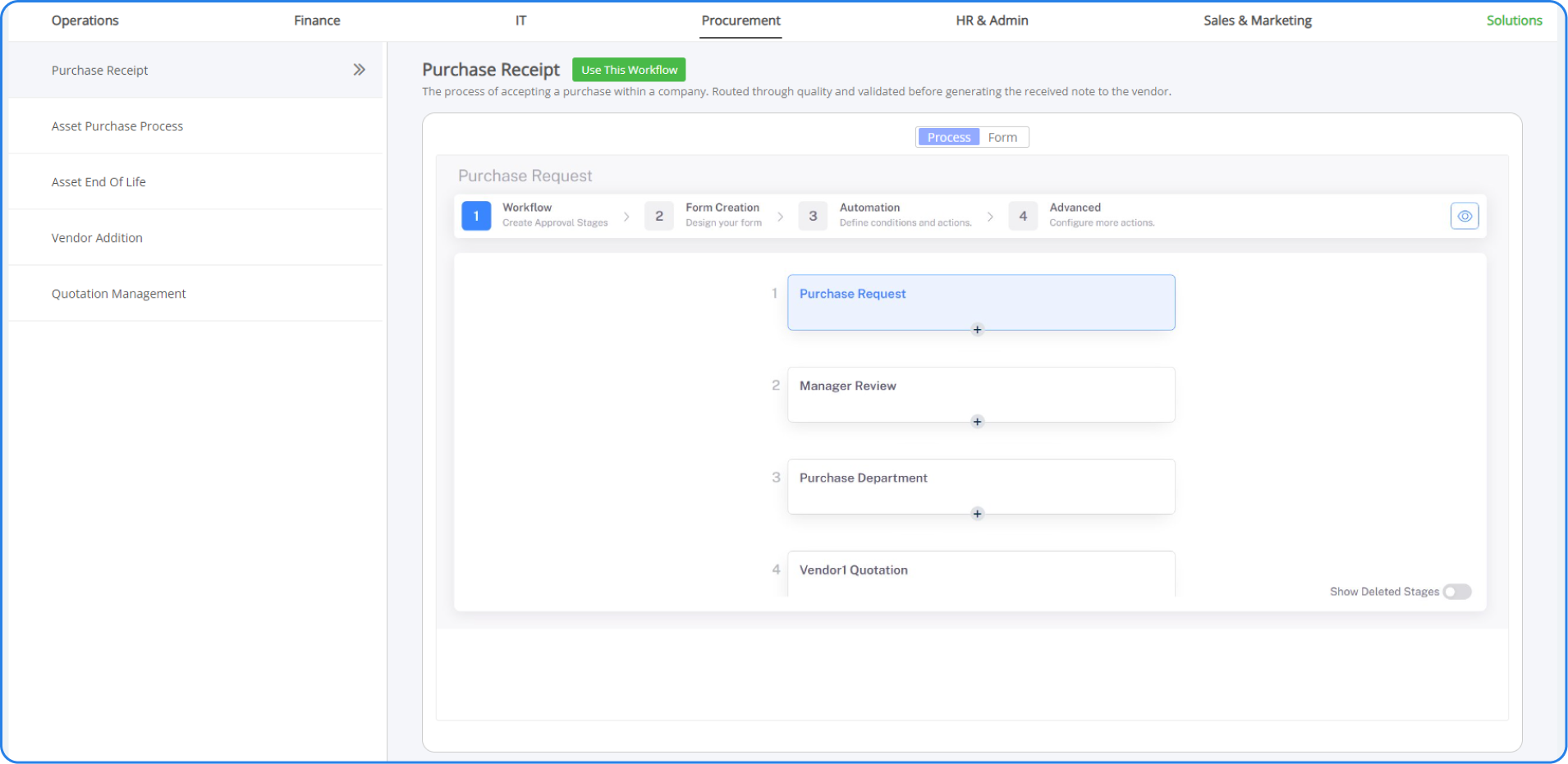 5. HR & Admin: Make your resource management streamlined with Cflow workflows. Whether it be your hard-working employees or the assets/systems responsible for your business operation, manage all of it effortlessly with automated workflows. Let your HR & Admin handle the processes of recruitment, onboarding/offboarding, approving requests, and many more on time with Cflow. Clicking on HR & Admin gets you this screen.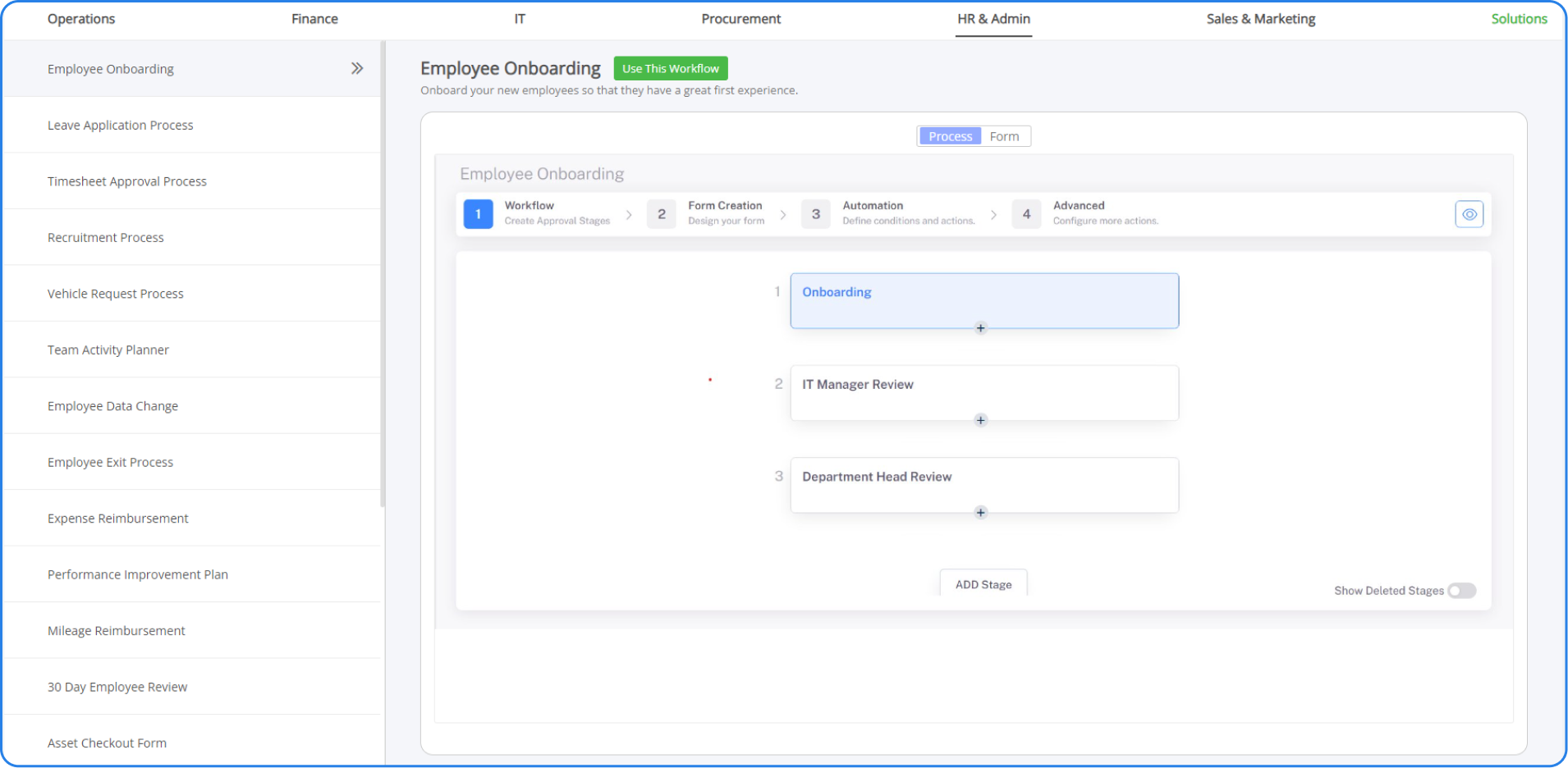 6. Sales & Marketing: Sales and marketing require the most out of business and bring the most into your business. Manage your sales quotient from lead generation to conversion and beyond with Cflow. Elevate your marketing activity with effective marketing campaigns, product launches, and prompt customer support by automating your workflows. You can see the available workflow templates under the tab Sales & Marketing in Cflow as shown below.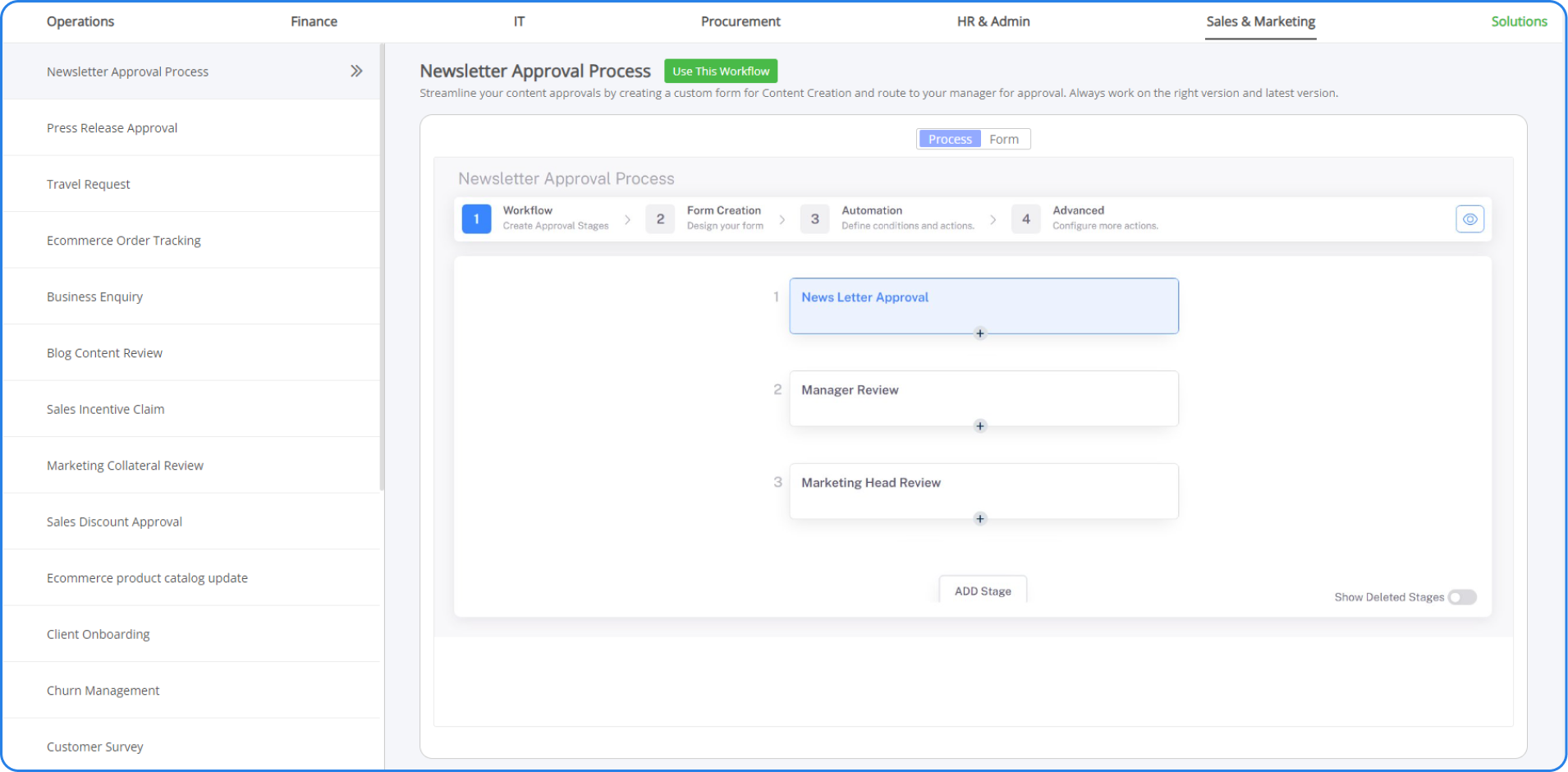 If your business workflow is unique and you can't find your match in our pre-built templates, Worry not! You can build a brand new workflow from scratch by clicking on the "Workflow Setup" option from the left menu. Click on 'Create Workflow' on the top right to build workflows for your use cases. You can also visualize all your created workflows in this wizard.