Complicated business processes can be made easier with the help of automated workflows. Cflow provides a comprehensive workflow library for the most common workflows. You can customize the prebuilt workflows to match your business processes.
You can access the templates from the above categories by clicking on the Workflow Templates menu option in the left menu.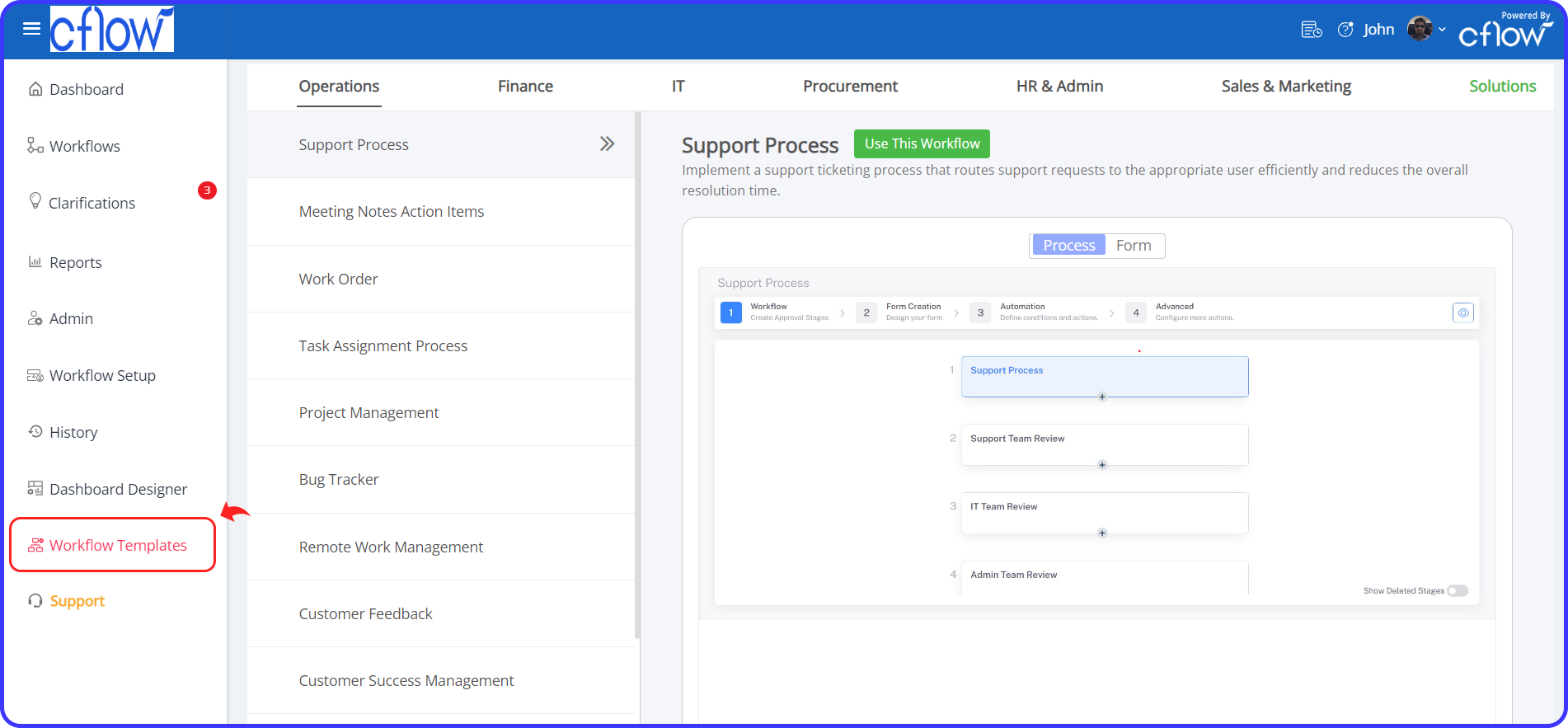 Cflow helps in automating business processes in the following departments :
1. Operations –  Operations is concerned with converting materials and labor into goods and services as efficiently as possible to maximize the profit of an organization. Manage your business operations, track the issues, and provide on-time resolutions by automating your workflows.
2. Finance – Financing is the process of providing funds for business activities, making purchases or investing. Automated workflows help you track your cash flow and manage the financial processes via a systematic approval process.
3. IT – Using information technology, businesses have the ability to view changes in the global markets far faster than they usually do. Manage your IT assets and team requirements using the prebuilt workflows.
4. Procurement – Procurement is the process of finding, agreeing terms, and acquiring goods, services, or works from an external source, often via a tendering or competitive bidding process. Prebuilt workflows help you manage the asset lifecycle, quotations, and vendor management.
5. HR & Admin – HR & Admin are responsible for managing resources related to employees. Manage your recruitment, employee onboarding, and exit processes and provide timely approvals on their requests with automated workflows.
6. Sales & Marketing – Sales & Marketing is vital for successful business growth. Manage your sales and marketing activities such as customer inquiries, promotional campaigns, product launches, and sales process management using Cflow.
If the workflow is completely unique to your business, you can create a brand new workflow from scratch by selecting Workflow Setup from the left menu and clicking on the Create Workflow button on the top right. All workflows you have created or imported will show up on the Workflow Setup page.